The following is a series written by archivists, academics, activists, and educators making available primary source material, providing pedagogical support, and furthering the understanding of Boston Public School's Desegregation history.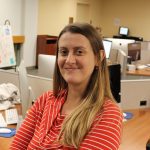 This post was reprinted from Anna Kijas of the Boston College Libraries Digital Scholarship Group: https://ds.bc.edu/visualizing-racial-disparity-in-boston-c-1970/ with permission by Molly Brown, 11/13/2017
During the spring and summer of this year, I collaborated on an exhibit, Desegregating Boston Schools: Crisis and Community Activism, 1963-1977, with Sarah Melton and Dr. Eric Weiskott. The main exhibit is at the John J. Burns Library, and a smaller complementary exhibit is on view in the Reading Room, Level 3, Thomas P. O'Neill, Jr. Library. Curating this exhibit required doing research in special collections at John J. Burns Library, specifically in the Louise Bonar and Carol Wolfe collection, Citywide Coordinating Council Records, and the Robert F. Drinan, SJ Congressional Papers.
One aspect of this exhibit was to create visualizations and infographics using racial demographic data for the City of Boston, racial distribution of students within the Boston Public Schools, and outcomes of the Boston School Committee election of 1973. The data for these visualizations was drawn from the materials in the Bonar/Wolfe collection, Citywide Coordinating Council Records, 1970 Census, and Analyze Boston. read more...